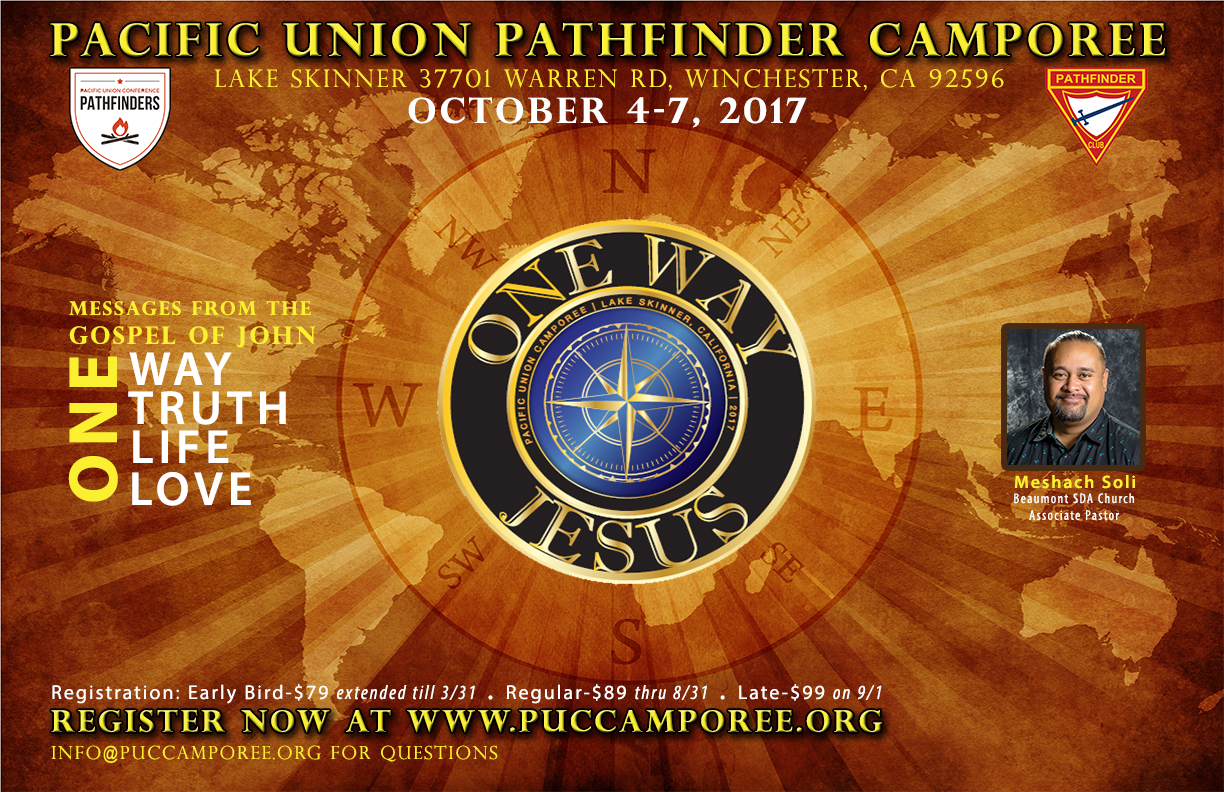 Plan to join Pathfinders from the western United States and Hawaii on October 4-8, 2017 at Lake Skinner!  Lake Skinner is nestled in the rolling hills of Winchester, CA, a few short miles east of Temecula.  Days will be filled with fun activities, honors and events. Each night you will be inspired as our guest speaker, Pr. Meshach Soli, talks on the them "One Way – Jesus."
Registration
Registration is online at www.puccamporee.org.
Early Bird – $79 extended to March 31
Regular – $89 by August 31
Late – $99 on/after September 1
Sabbath Day Pass – $25
Staff Kids (ages 4-8) – $69
Staff Kids (ages 0-3) – free
Tickets include entrance, a patch and pin, camping and all activities, honors, etc.  There is also different pricing for staff kids (ages 4-8) and for Sabbath day passes.  If you are planning on attending, you must purchase a ticket.  Tickets are purchased with a credit card and are non-refundable, but can be transferred.
Baptism and Master Guide Investiture
A form is available on the PUC Camporee website and must be filled out to be considered.
Campsite
All clubs are assigned campsite space based on the number of paid registrants.  One RV or chuck wagon is allowed per site.  Campsites will not have any hook-ups.  There is a dump station onsite.  All other vehicles will be parked in overflow parking; see Parking.
Honors and Activities 
We need Pathfinder clubs or individuals to provide an Honor or Activity.  Honors will be taught on Thursday, October 5 and Friday, October 6, from 9:30am-12:30pm and 2:00pm-5:00pm. Please fill out an
Activity & Honor Registration Form
and email to judi.jeffreys@seccsda.org.
Facility
Lake Skinner Recreational Area is located in the rolling hills of Winchester, just a few short miles from Temecula.  
Click here
for their website. Lake Skinner will be closed to the public for this event.  Below are some other details you need to know:
Bathrooms – Portable toilets will be used for this event as the facility bathrooms will not be able to accommodate us.

Fires – Although the facility allows for campfires, we do not.  So no open fires will be allowed.  Each campsite must have a visible fire extinguisher near the cooking area and must have buckets of water and a blanket or gunnysack for fire fighting.  In case of fire, soak the blankets quickly and use them for smothering the flames.

Map – Click here for a map of the overall layout for this event.
Showers – Three shower trailers each with 16-shower stalls will be placed in the camping areas as the facility showers will not be able to accommodate us.  These will be available at no additional charge.

Splash Pad Area – Lake Skinner has a free splash area that will be open at the Camporee.   Anyone using the area will need to be in proper swim attire, no street clothes.  Swim attire can be worn in the splash pad area only; not in the other event areas.

Males – modest swim trunks
Females – one piece swimsuit or tankini ( a tankini is a two-piece swimsuit with a top and swim bottoms); top must cover midsection and bottoms must be full coverage; boy/board shorts are acceptable.

Trash – Although there are trash dumpsters available, you will need to bring trash bags and/or cans to gather your trash then throw in the dumpsters.  We also ask that you separate any CA redemption recyclable bottles, cans, etc. and put in the dumpster marked for recycling.
Inspection
The club and campsite inspection needs to be scheduled with your county coordinator.  A final 'clean up' campsite inspection will be done Sunday morning before leaving.
Parking
A designated parking area for all vehicles will be near the campsites.  We do recommend wagons or something to transport items to your campsite.
Pets
For liability reasons SECC Youth Ministries has a not pets allowed policy.  Please leave  your pets at home.
SECC Trading Pin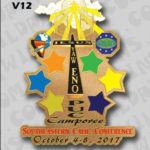 A designs was chosen! This pin not only reflects the theme of the Camporee, but each star represents our different counties.  The pins are 2.5″ with two clutches.  Price is $3.25 each plus tax.  
Click here
for the form to place  your order.
Seating
Tarps or other ground covers and camping chairs are advised.  Clubs may not leave tarps or chairs to reserve their spots.  Seating will be on a first come basis.
Uniform
Pathfinders and club staff/leaders are encouraged to wear Class A (dress) uniforms on Sabbath morning or for specified activities like drill down and Class C (field) uniforms for the remainder of the event.
Wash Stations
As you make plans for your campsite, please include a wash station.  All gray water needs to be collected and dispersed in the gray water containers.
This is going to be an amazing event you won't to miss!  Go to www.puccamporee.org for more information.